Employment and Support Allowance (ESA)
Employment and Support Allowance Nightmare?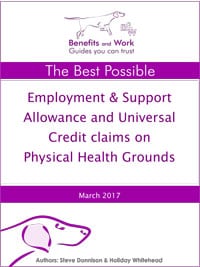 "I got the first hug from my son in 10 years!"
"Just wanted to say a big thank you after a stressful time with ESA review for my son, 34, who suffers rapid cycling bipolar disorder. He has been in the WRAG group for 5 years but following a review including medical, has now been put into the support group. Ecstatic is an understatement. For all my help, I got the first hug from my son in 10 years!"
ESA Support Group
"Hi… a big thank you for all the information you provide. I have successfully been put in the support group of ESA following my ESA medical. I couldn't have done it without you… Thank You"

ESA good news
"I want to thank benefits and work for all the help you given I've had 8 months of worry in regards my ESA assessment which they declined to put me back in the support group but with all your help I did mandatory consideration which they finally put me back in support group. I don't know what I would do without you. God bless you for the help you have given, as I very much appreciate it"
PIP & ESA success
"A huge thank you to all who run this fabulous site, ESA support group for 3 yrs and pip enhanced mobility and standard care, I don't think we would have got through all the paperwork without your valuable guides and all the helpful tips, thank you so much"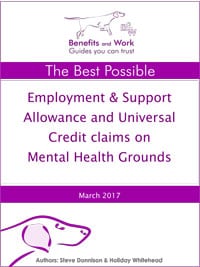 Are you struggling with employment and support allowance?
Are you completely confused? We're not surprised.
Employment and support allowance is the most bewildering, unfair and badly designed benefit since the abolition of the workhouse.
The claim form is long, complex and often confusing.
The medical is carried out using a computer. It's frequently rushed and it may not even be a doctor that assesses you.
The appeal system is deeply confusing, not least because employment and support allowance procedures and regulations are extremely complex and generate a huge amount of paperwork.
And because employment and support allowance is so complicated, there is very little reliable information on the internet.
Jobcentre Plus offices frequently give incorrect advice.
And advice agencies just don't have enough staff to deal with everyone who needs help.
How We Can Make A Difference
It is possible, though, to understand how to complete the claim form and avoid the traps it sets for the unwary and unprepared.
And you can turn up to your medical knowing what will happen and what kind of questions you'll be asked.
Even if you do have to appeal, it's possible to understand the process and present your case in the most effective and convincing way.
Benefits and Work members achieve all this.
Because Benefits and Work is completely independent and we only care about helping you get the benefits you're entitled to. We do this by providing you with the most honest, detailed and practical information available anywhere
Find Out More
So, if you want to give yourself the best possible chance of a successful claim, learn how we can help you with your:
You can also read feedback from some of our very satisfied members.
Can't thank you enough for the guides you publish, they were great.
And you can take our free ESA Test to discover how many points you assess yourself as scoring and whether you think you qualify for the support group.
Alternatively, you can simply: