13 November 2006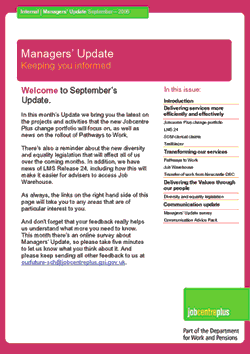 Benefits and Work has obtained copies of previously confidential monthly updates sent out to all Jobcentre Plus managers. They reveal a service failing to cope with the pace of change and also provide useful ammunition for claimants and representatives in relation to issues such as staff refusing to allow paper claims for benefits.
We intend to provide members with monthly copies of the updates - meaning that you'll be better informed about what's happening within your local Jobcentre plus than almost anyone who works there.
Members can download the Jobcentre Plus Managers updates.
September 2006 Jobcentre Plus Managers' Update
The September edition includes:
A reminder to managers that they should make their teams aware that they cannot refuse clerical [paper] claims and that customers remain free to decide how they wish to make a claim. If your agency is having trouble with a local office saying that all claims should be made by phone, fax them a copy of page 3 of the update and ask them to explain why the manager's not doing their job.
An admission that the 'jobcentre plus change portfolio has been too big to manage' for some time. The update sets out which projects are to be concentrated on in the future.
Information on the 'Trailblazer' project for improving JC+ services, including fortnightly jobsearch reviews.
Information on the Jobs Warehouse which allows approved recruitment agencies and large employers to bulk upload jobs directly to the JC+ database.
News of the transfer of work from Newcastle Disability Benefits Centre. The bad news for people living in the Northumberland and Tyne and Wear area (postcodes NE, SR and TD) is that their claims will now be assessed by Bootle. This means that in future they will be subject to the computerised DLA assessment system being piloted there.
August 2006 Jobcentre Plus Managers' Update
The August edition includes:
Information on 7 'quick wins' being introduced to improve service to customers, including the national introduction of JSA, IS and IB rapid reclaim.
The announcement of the introduction of an Adult Learning Option providing opportunities for claimants with low skills levels to study for a qualification whilst receiving financial support and retaining underlying benefits entitlement. The scheme is restricted to certain named areas of the country.
News of Peterborough, Sheffield and Makerfield Benefits Delivery Centres going live.
Information on monitoring of the JSA interventions regime
Information on tackling official error including earlier alerts for the expiry of medical certificates and a mandatory review of severe disability premium entitlement on a change of address notification.
Warning of delay to the introduction of a new computerised Business Control System due to the large number of system errors, which EDS has said it will fix at no cost to the DWP.
July 2006 Jobcentre Plus Managers' Update
The July edition includes:

A reminder to manager that they should tell staff that 'Work is not a reportable relevant change of circumstances for DLA . . . '. This is somewhat undermined by the further information that 'A DLA customer starting or returning to work may indicate a change to the customers care or mobility needs'.
News that all DWP staff are to get new computers, new flat screen monitors and new phones. Within 18 months all DWP communications will be via Voice over IP - i.e. internet phones. So you can look forward to a plummeting in the quality of telephone calls. Some staff will also be able to use a 'follow me' system for calls, meaning that they will be able to fail to answer calls not just from their own phone but from other people's phones too.
News of a new telephone interpreting system and a reminder that customers should never be told to obtain an interpreter or to bring one with them unless they wish to: JC+ should provide all necessary interpreting services.